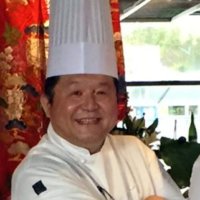 Sadaharu Aoki (Harry)
5 reviews
5.0
Born in Japan, Harry began to cook at the age of just 5 for his younger sister.  He had always found it fascinating to touch food. After he graduated high school he decided to take a chef apprenticeship in a European restaurant in Yokohama while studying economics and commerce at University. He also learnt Sushi and Sashimi at cooking college in Tokyo.
Harry came to Australia to work as chef at QLD's premier resort Kooralbyn Valley Hotel Resort and then climbed the ladder to become the first Japanese Executive Chef in Australia. The highlight of his time at the resort was catering for 3000 people for a national rodeo competition. The resort also hosted Kerry Packers international polo team and Brisbane Broncos inaugural training camp.  He also entered the Salon Culinary competition in Gold Coast and was awarded gold and bronze medals in the main category.
After 7 years at the resort he wanted a break from the culinary world and pursued a sales and marketing career in the duty free retail industries for almost a decade which led him to Sydney. Knowing that food was his passion he decided to lease a pub kitchen at Glebe and Ultimo. He was involved in the opening of the Hyatt Regency Sydney, International Convention Centre Sydney and Executive Head Chef at Kobe Jones Japanese restaurant.
He believes the future culinary world is borderless. He is an expert in Sashimi, Sushi and Wagyu cookery.

Sadaharu Aoki (Harry)
Great food and highly recommend this for anyone that is looking for an extraordinary experience. Harry was an exceptional chef and we all loved the food and the whole culinary adventure.
Elie Mougel (NSW)

Sadaharu Aoki (Harry)
Had Harry and his canapes/5 course tasting plate. Food was high end restaurant level. Team and all the little things were incredible. Overwhelmingly gushing guest feedback also.
Adam Lancaster (NSW)

Sadaharu Aoki (Harry)
Could not have been happier with our experience! Harry and his lovely waiter were absolutely amazing. It was a night to remember and we can't wait to book him again. Thank you also to the wonderful Ellie & Sonja who were so great to deal with during the booking process and helped make sure the event went smoothly. Have recommended your company to everyone! Thank you so much for making my husband's birthday amazing.
Tiffany Mammone (NSW)

Sadaharu Aoki (Harry)
The experience was great and Chef Harry cooked us an amazing meal. All our guests were most impressed.
Tanya Hing (NSW)

Sadaharu Aoki (Harry)
We had such a wonderful time! The food & service were amazing.
Jacqui Sutton (NSW)