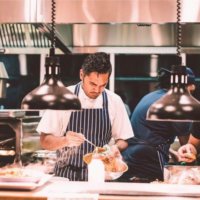 Selau Mailata
3 reviews
5.0
Chef Selau brings 20 years of industry experience to your table. His menu is centred on seasonal and local ingredients. Simplicity is key to creating his menus with European and Asian elements combined to suit Modern Australian taste.
Sharing, food, and family are strong influences in every aspect of his life. His Samoan heritage and experiences as a Qualified Chef in Brisbane have motivated his interest in the home dining atmosphere.
As a Private Chef, his focus is on providing a warm dining experience for people at home.
His past Head Chef experience includes Wild Canary Botanical bistro, Seavine Bar & Kitchen, Merriweather Café, The Defiant Duck, and The Jetty Oxford.

Selau Mailata
Food was excellent. Selau was also able to modify those canapés not suitable for guests with allergies - very impressed with that level of service. Both Selau and his staff were very friendly and guests commented on the great customer service of all his staff. Would not hesitate to highly recommend Selau and his staff.
Carol Wills (QLD)

Selau Mailata
From the outset we were impressed with Selau and his team. Very professional in their approach. Nothing was too hard. Pleasant demeanours put our 20 guests at ease. The table service was excellent and the food was perfect and presented in top class fashion. The team was extremely efficient and the kitchen area was left as it was upon arrival - impeccable. I would have no hesitation in recommending Selau for any function and will engage his services again.
Anna Pearson (QLD)

Selau Mailata
We had chef Selau for my 50th for 8 people in Nov 2020. The meal was absolutely fabulous and really made the night. He was helpful when asking questions and nothing was a problem. The food was amazing and everyone was very happy.
Lara Walden (QLD)