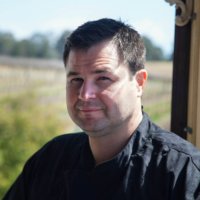 Tim Suffell
10 reviews
4.9
Born and bred in Newcastle, Timothy was drawn to food at a very young age. His grandmother, a Fellow of the City of London's Worshipful Company of Cooks for her skill in confectionary and pastry, instilled upon him not only her knowledge but her creed: good food, good wine, good friends.
Following school, Timothy headed to Sydney, where he began his apprenticeship at Hugo's in Bondi Beach (one chef hat restaurant) before moving back to the Hunter Valley to finish his training under Executive Chef Jean Marie at Cypress Lakes Resort. Throughout his career Timothy has had the privilege of working at some of the finest establishments and with the best chefs the country has to offer including Warren Turnbull at Sydney's Cruise (two chef hat restaurant) and the opulent Lizard Island Resort.
Timothy's love of travelling has had a large impact on his style of cooking, with Eastern Mediterranean techniques and flavours shining through his classical French training to ensure each dish he prepares is a unique gastronomic exploration. With his love of travel came with working in a vast ray of establishments throughout Europe learning traditional methods of cookery from local villages and towns.
With his food previously appearing in publications such as the Sydney Morning Herald, Qantas Inflight, NRMA's Open Road and Dining Out in the Hunter, Timothy has now moved into a consultancy role for restaurants throughout Newcastle and the Hunter Valley. Timothy and his wife Amanda took ownership of the Verandah Restaurant in Pokolbin, offering contemporary cuisine served in a tapas style. The couple also specialize in events both at their restaurant and offsite.

Tim Suffell
Tim's food was amazing and the 2 waitstaff were exceptional! Couldn't have been more impressed!
Lauren Bridle (NSW)

Tim Suffell
Chef Tim and the 2 waitstaff were absolutely amazing! They were so professional we had an amazing lunch could not have asked for a better day.
Lauren Bridle (NSW)

Tim Suffell
Tim prepared an excellent five course meal. all my guests were pleased and delighted with the quality.
Brad Holman (NSW)

Tim Suffell
What a great night! Having restaurant quality cuisine served in your own home makes for a wonderful evening. My 11 guests and I had a fabulous night and the best part was I didn't have to lift a finger! Chef Tim and the waiter left the kitchen spotless which was really appreciated.
Leanne (NSW)

Tim Suffell
great food, friendly chef and waiter
Angie Peterkin (NSW)