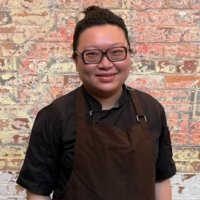 As a culinary professional with a passion for creating unique and unforgettable dining experiences, Toey has been focusing her development on private dining. By creating special dishes that cannot be found in public restaurants, she aims to bring a new level of dining experience to customers who enjoy privacy.
Her background in Chinese cuisine and training at the HKICC, paired with her experience working in numerous luxury restaurants overseas and Australian cafes, has allowed her to develop a deep appreciation and expertise in world-class gastronomy. In recent years, Toey has honed her skills in using fresh Australian ingredients to create Asian dishes with traditional flavours, which has enabled her to craft a unique and memorable menu for each private dining event.
Most recently, she had the pleasure of working at Ryne, where she worked alongside esteemed chefs Donovan and Jack to reinforce her knowledge and skills in Modern Australian and French cuisine. She is excited to bring her passion for creating unforgettable dining experiences to a new culinary opportunity and continue to grow in the industry by exploring innovative ways to elevate private dining.