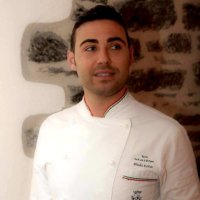 Bledi Koka
2 reviews
5.0
As a child, Bledi's world was seasoned with the enticing aromas of kitchens, where his grandfather, a seasoned chef, kindled his love for cooking. Guided by his grandfather's teachings, Bledi embarked on a culinary odyssey that would define his life.
His journey began in Perugia, a place known for its cured meats, black truffles, and cheeses. Here, as a young apprentice, he honed his skills at one of Perugia's most renowned establishments, the 5-star luxury Hotel Brufani Palace, where he started his career as a chef.
But Bledi's appetite for culinary knowledge was insatiable. His passion led him to Viareggio in Tuscany, the heart of fish cuisine. At the Grand Hotel Principe di Piemonte, he assumed the role of Sous Chef, dedicating five years to perfecting his craft. It was during this time that the Il Piccolo Principe restaurant earned two coveted Michelin stars.
Curiosity continued to drive Bledi as he explored Italy's diverse regional cuisines. He journeyed to Lake Orta in Piedmont to work alongside the renowned Chef Antonio Cannavacciuolo of Villa Crespi, a three-star Michelin establishment. Following his tenure at Villa Crespi, Bledi stepped into his first Head Chef role at "Il Cortile" in Cannero Riviera, overlooking Lake Maggiore.
Bledi's culinary quest extended beyond Italy's borders. He ventured to Paris and the French Riviera, immersing himself in the rich tapestry of European culinary culture. An opportunity in Australia beckoned, leading him to Melbourne, where he lent his culinary expertise to esteemed establishments such as Matteo's and the Park Hyatt Hotel Melbourne as a Sous Chef at Radii restaurant.
Now, with an impressive 23 years of experience in the kitchen, Bledi has embarked on a new chapter. He's chosen to share his passion for Italian cuisine as a Personal Chef, bringing the flavours and wisdom he's gathered from his gastronomic journey across Italy and around the world directly to your table.
Bledi's life has been a symphony of flavours, each chapter a culinary masterpiece, and he invites you to savour the magic of Italian cuisine through his expert hands and heartfelt dedication.

Bledi Koka
We loved our night with Bledi Food was amazing and Bledi was polite and engaging I would recommend him 100%
Jane Ferraro (VIC)

Bledi Koka
Chef Bledi was absolutely fantastic! He has a warm, friendly personality which compliments his absolutely delicious food. Chef Bledi was more than comfortable in dealing with dietary requirements. With his own gluten free experience Chef Bledi created dishes which you almost would not believe they were gluten free! Made the surprise 70th extra special and 100% would and have recommended him to others.
Cat S (VIC)