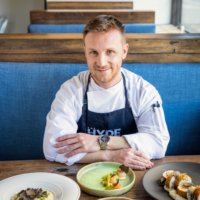 Christian Colognesi
20 reviews
4.9
Growing up in Northern Italy meant being surrounded by notoriously good food and wine at a young age, which meant that Christian's future as a Chef was well established before he even knew it! His early days were spent cooking with the family, utilising the abundance of amazing produce, and learning to handle them with the most traditional methods.
Christian's career officially began as a Chef in Milan, working in a number of distinguished restaurants, before moving to the Milan Intercontinental. A good relationship with the Intercontinental helped him transfer to London to gain experience and consultation from the famed Giorgio Locatelli.
After many years of cooking his way around Europe, Christian moved to Sydney, where he displayed his traditional Italian cuisine as the Head Chef at places like Bambini Trust and The Corner House, with numerous high scores and write-ups from the 
Sydney Good Food Guide
.
Christian has the trademark perpetual Italian passion for all things food and wine. When he's not cooking, Christian can be found eating his way around Sydney or shopping at the local markets for the best seasonal produce he can lay his hands on!

Christian Colognesi
Legendary food, staff and service. Third time we have used AT Your Table and it was amazing. Chef Christian was fantastic
Deme Karikios (NSW)

Christian Colognesi
Christian and Bruna were amazing for our parents Golden Wedding anniversary dinner. The food was superb and Christian was a great host with plenty of insights and knowledge around the food. He even expertly released the cork from our 1972 Grange as well. A wonderful time had by all.
Dan Bleakman (NSW)

Christian Colognesi
Amazing food and experience. Thank you Christian and Monica
Liam H (NSW)

Christian Colognesi
Chef Christian was fantastic. He took the time to explain every course and they were all delicious. Our waitress Juliana was also very lovely and friendly and was even happy to make us cocktails while she wasnt serving our meals. We had a fabulous night and will definately do it again!
Michelle Schirripa (NSW)

Christian Colognesi
Our dinner on Friday night was just wonderful with our chef, Christian, and our waiter, Juliana. Christian is just full of personality and introduced each magnificent course - the Wagyu beef was particularly beautiful and Juliana was delightful and took initiative to go above and beyond with service. Thank you to Christian for replacing Mark at short notice. Thank you Ellie and Sonja At Your Table
Margaret Coulton (NSW)