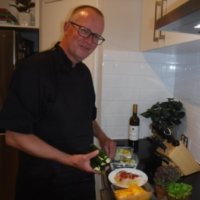 Marco Bijl
4 reviews
5.0
An accomplished culinary professional with over 30 years' experience, Marco qualified in the Netherlands, and trained extensively in Switzerland and stayed there for over 11 years working in 5-star resorts around the lakes and in ski resorts.
He then moved to Australia to open the world-famous Sheraton Mirage resort in Port Douglas, QLD. From there he went to work at sea and has been an Executive Chef for several 5 and 6 star cruise liners for a total of 14 years.
For the past 10 years he has been living in Perth working as a Head Chef.

Marco Bijl
Chef Marco provided his services recently for my daughters baby shower. I cannot thank Marco and his assistant Jess enough for making the event such a success. The delicious food was of such high quality with an amazing attention to detail. Everything went seamlessly and I was left with a clean kitchen and very happy guests! Thank you again to At your Table and Chef Marco; I will certainly be recommending and using your services in he future!
Annmarie Wragg (WA)

Marco Bijl
Food was fantastic, Marco and Sharon were very accommodating. The barramundi was really tasty and overall it was a lovely experience.
Masha (WA)

Marco Bijl
Chef Marco is a very experienced Chef and prepared a delightful 5 course dinner for our guests. We enjoyed hearing his stories about his career and the food he served. Everything was cleaned beautifully on his departure and we only had the glasses to wash. A lovely evening.
Kristi Busby (WA)

Marco Bijl
Marco and the waiter were professional, helpful and the food was gorgeous. Definitively use them again
fetia kerimi (WA)