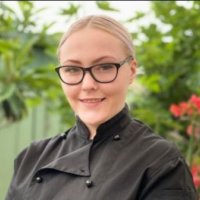 Skye is an up and coming enthusiastic chef with a wealth of experience in the hospitality industry.
She is the sister of our very own At Your Table chef Jess Allen and has been training with Jess for over 4 years specifically in private in home dinning and corporate events.
Skye has a passion for pastry and cake making to go along with her ability to cook refined modern Australia cuisine.
From a young age she has always been around food and has a deep understanding of flavour and balance.