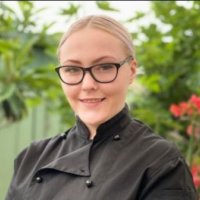 Skye Hart
1 reviews
5.0
Skye is an up and coming enthusiastic chef with a wealth of experience in the hospitality industry.
She is the sister of our very own At Your Table chef Jess Allen and has been training with Jess for over 4 years specifically in private in home dinning and corporate events.
Skye has a passion for pastry and cake making to go along with her ability to cook refined modern Australia cuisine.
From a young age she has always been around food and has a deep understanding of flavour and balance.

Skye Hart
Skye Hart came to our home and performed a private dinner serving for my family. Not only was the food unbelievably good, but you could see the passion she has for cooking in the consideration she showed during preparation as well as the stories behind the sourcing of her ingredients. Being able to talk with her about cooking at a higher level, and the patience and care she had when answering my two young daughters' questions took the night over the top. The evening was incredible and we cannot thank Skye enough for making it so.
Thomas Haddy (VIC)