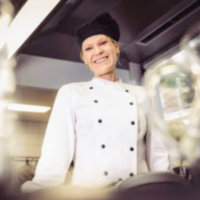 Tanja Nixdorf
27 reviews
5.0
Born near Hamburg, Tanja has 20 years experience in the hospitality industry. Classically trained in Germany, she worked for only the finest restaurants and hotels in Europe and spent 10 years prior to arriving in Australia as a Head Chef in gourmet restaurants in Switzerland.
Following her passion for other countries and cultures, Tanja enjoyed a lot of her time between jobs traveling. She also worked for a few months in Bangkok, Singapore and Florida to explore different cooking styles and cuisines.
In 2012 Tanja took the challenge to relocate to Sydney to become the Executive Chef at Swissôtel Sydney, at that time, the only female Executive Chef in a 5 star hotel in Australia.
Tanja lives on acreage near Brisbane, enjoying the country lifestyle with space, livestock and growing some of her own produce. She works at a popular function venue in Brisbane which blends in well with her private chef commitments.
Tanja's passion is to create food which is fresh and simple, yet stunning and healthy, satisfying the highest standards and expectations. Tanja's cooking style is classic European based inspired by Asian techniques and flavours.

Tanja Nixdorf
This whole experience was brilliant. It was a restaurant at home. As a host I was able to sit down and relax with friends. Tanya's food was excellent and she left my kitchen sparkling. Will always have fond memories of that night.
Anna (QLD)

Tanja Nixdorf
The offered menus were all excellent and our selected menu surpassed expectations. We had a celebration dinner with a group of 14 and made adjustments to the menu that were readily agreed to and implemented by the team. The night went smoothly and we all just sat and enjoyed the meal and conversation without having to leave the table or worry about timing or serving drinks. A wonderful and special night with friends all made possible by Tanja and her team
Paul Callum (QLD)

Tanja Nixdorf
She was very professional and the food was amazing.
Tammy Litzow (QLD)

Tanja Nixdorf
Tanja and Alex did a wonderful job catering for our guests and made the night run very smoothly and the food was superb.
Grant Titman (QLD)

Tanja Nixdorf
Was a very good experience and having done "at your table" 3 times now, Tanja was the best chef so far. Her server was also much better then the last two servers I have had.
Marcus (QLD)