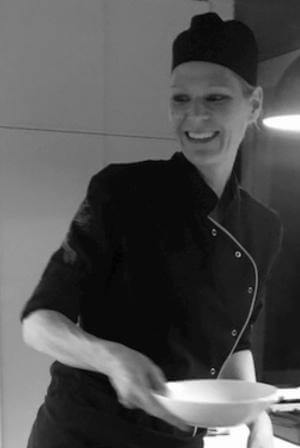 Born near Hamburg, Tanja has 20 years experience in the hospitality industry. Classically trained in Germany, she worked for only the finest restaurants and hotels in Europe and spent 10 years prior to arriving in Australia as a Head Chef in gourmet restaurants in Switzerland.
Following her passion for other countries and cultures, Tanja enjoyed a lot of her time between jobs traveling. She also worked for a few months in Bangkok, Singapore and Florida to explore different cooking styles and cuisines.
In 2012 Tanja took the challenge to relocate to Sydney to become the Executive Chef at Swissôtel Sydney, at that time, the only female Executive Chef in a 5 star hotel in Australia.
Tanja lives on acreage near Brisbane, enjoying the country lifestyle with space, livestock and growing some of her own produce. She works at a popular function venue in Brisbane which blends in well with her private chef commitments.
Tanja's passion is to create food which is fresh and simple, yet stunning and healthy, satisfying the highest standards and expectations. Tanja's cooking style is classic European based inspired by Asian techniques and flavours.
Book Chef
Testimonials for Tanja Nixdorf
She was very professional and the food was amazing.

Food: | Service:

Tammy Litzow (QLD)
Tanja and Alex did a wonderful job catering for our guests and made the night run very smoothly and the food was superb.

Food: | Service:

Grant Titman (QLD)
Was a very good experience and having done "at your table" 3 times now, Tanja was the best chef so far. Her server was also much better then the last two servers I have had.

Food: | Service:

Marcus (QLD)
We were so happy with our evening, poor Tanja there were a few kitchen malfunctions, due to it being very new, and one of my pots not being compatible with the induction (even though it was sold as induction) anyway I digress….Tanja somehow overcame the difficulties and served us a beautiful meal, our guests were so impressed. Alex and Levi, the waiters that came with Tanja were a delight and nothing was too much trouble. Five stars all the way from us.

Food: | Service:

Kim Hill (QLD)
Tanya was just excellent. My guests had a great time. Everything was so organised and the food was great. We had canapés and we got to enjoy ourselves without having to organise the food. Alex who helped with Waitering made everything a breeze.

Food: | Service:

Manju Chandra (QLD)
Tanja is always very friendly and approachable. The food was beautiful.

Food: | Service:

Emma Lenden (QLD)
The night was outstanding and ran seamlessly. The food was wonderful with all guests very complimentary. It felt like we were in a five star restaurant with quality of food and service. Several of the guests felt this was the way forward when it came to parties. Thanks Tanya for a great night.

Food: | Service:

John Van de Pol (QLD)
Good a bit shy.

Food: | Service:

Amy Nolan (QLD)
Chef Tanja was lovely and very quick and clean. The food was lovely and well catered for our young son. Dessert was a little disappointing but we were happy over all.

Food: | Service:

Megann Trimble (QLD)
Normally I would be the one in the kitchen , but given the short notice ( 1 week ) and number of guests (21), and the special occasion ( daughters 21st birthday), I needed professional help. Chef Tanja was fantastic. The food was excellent. Everything went like clockwork. The guests loved, loved the food and the whole experience. Would totally do Again and recommend to others.

Food: | Service:

Diana Taylor (QLD)
Great food – we didn't have to do anything. It was wonderful to be able to engage with our guests and be taken care of.

Food: | Service:

Melissa Connell (QLD)
Very friendly and cooperative. Kept to timetable and was able to adjust to a late request from I diner. Food excellent and left the kitchen very clean.

Food: | Service:

peter betros (QLD)
Thank you Tanja and her wait staff for providing divine food and excellent service for our dinner party at home. It's the best dining experience that we ever had. Canapes and all dishes were beautifully presented. The service of the wait staff was attentive but not intrusive. We highly recommend both of them to our friends.

Food: | Service:

Miranda (QLD)
We had a 7 course degustation and no one could pick there favourite dish, as it was all absolutely beautiful. Best food we have all tasted. Amazing chef.

Food: | Service:

Emma (QLD)
Hi Ellie

I just wanted to say a huge thank you to your team for last night….Every single person noted that it was the best party they had ever been too and that the catering was superb. They went above and beyond their core duties in particular one of the wait staff followed us into the park and served us our last dessert. I think they were running a little behind schedule however that was of no concern to us. We will definitely keep your company in mind for future events and many people enquired also.

Thank you once again!
Mark

Food: | Service:

Mark (QLD)
This was a booking with very little notice on my behalf but AtYourTable absolutely delivered. From beginning to end, everything was wonderful and enabled us to have a magnificent night. Thanks

Food: | Service:

Tracy Kittle (QLD)
Thoroughly enjoyable and delightful chef. Would recommend.

Food: | Service:

Tania Noskoff (QLD)
Really enjoyed the evening, wonderful service, delicious food. All guests commented very positively.

Food: | Service:

Damien Watson (QLD)
We have used Tanja for a second time, based on how satisfied we were originally. Again, Tanja was wonderful.

She is prompt, organized and efficient. She fitted right in with our party and was flexible throughout. And at the end of the night, our kitchen looked cleaner than when she arrived.

I can thoroughly recommend Tanja and we will be using her again.

Food: | Service:

Alan Millard (QLD)
The experience exceeded expectations. The food was excellent and well presented. The chef and waiter were friendly and obliging and seamlessly took up the catering reigns allowing us enjoy the evening.

Food: | Service:

Ben Bowen-Jones (QLD)