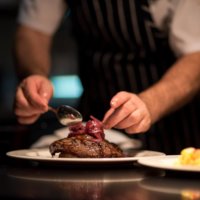 Tom Kime
5 reviews
5.0
Tom Kime cut his catering teeth in some of the most famous restaurants in London and Sydney.  He has travelled to 42 countries to sample, discover, and understand how to cook the world's best food, and so brings a truly global approach to his work.
He worked at the Michelin starred le Pont de la Tour in London and then with Rick Stein at The Seafood Restaurant in Padstow. In Rick Stein's BBC series, an Asian odyssey, Rick used Tom to guide him through the food of Hanoi and referred to Tom as 'a real street food aficionado'.
He has also worked at the Michelin starred River Café alongside Jamie Oliver (he cooked the Thai food at Jamie's wedding) and at Darley St Thai with David Thompson and Cicada with Peter Doyle, in Sydney. He was the executive chef and joint creator of Fish & Co. The sustainable seafood restaurant in Sydney from 2010 -2015. Recently he was appointed the Head chef for Macquarie Bank at 50 Martin Place in Sydney. Tom has cooked privately for international celebrities and royalty, by appointment.
He has also written six acclaimed books, filmed five series of Ready Steady Cook, presented three of his own TV series and set up six restaurants in London, Malta and Sydney.
Tom has been consulting the team of chefs at Pinetree's on Lord Howe Island running intense flavour workshops and demonstrations to inspire their daily menus.  Pinetree's has just been voted as the No.1 hotel in Australia on TripAdvisor two years in a row.
"An unrivalled tutorial in foods that sing with flavour – Tom Kime has a Perfect sense of the food we all love to eat.'
Rose Prince food journalist
'He uses the ingredients much like an artist would use his paint, to create a piece of gastronomic art.'
In London Magazine
"If only dinner parties had food this exciting. The flavours are vibrant and almost intoxicating.  It was a stunner with multiple flavours exploding on the palate.
Food @ the muse is a blast.'
Guy Dimmond Time Out London Food Review
"I am shouting this one from the rooftops.
A dazzling side dish, which is an object lesson in how to put together a salad.
This food screams freshness originality and sensuality and is served up with love intelligence and sunshine. Blow me away talent from a chef who is going far."
Jeremy Wayne The Guide Saturday Guardian
'The name on everybody's lips is Tom Kime whose super clever creations are wowing diners all over town.  Expect delicious things.'
Food Drink Magazine

Tom Kime
Tom was the consummate professional. He made an incredible dinner and was chatty and personable with the guests. Everyone loved him and his amazing food!
Louise Barton (NSW)

Tom Kime
We were delighted with our wonderful At Your Table dining experience for Annie's 30th birthday last Friday evening. We were excited to welcome Tom to our home, and thank him very much for an amazing culinary experience! He treated us to four completely delicious courses selected from his Asian menu, complemented perfectly by two lovely organic wines, a white and a red, which he sourced for us. His explanation and engaging description of each course as it was served helped our guests and us to appreciate the depth and complexity of flavours of his amazing Asian cuisine - delicate and strong,sweet and savoury, spicy and fresh, rich and fruity. He was gracious, professional and efficient in finding his way around our kitchen, and we particularly thank him for his understanding and flexibility in timing a later commencement of the dinner so that we could get a toddler and young baby to bed! It was a very special experience to be able to enjoy a quality restaurant experience in our own home, with our family all gathered for a birthday celebration. Thank you, Ellie and Sonja, for enabling that to happen.
Margaret Grainger (NSW)

Tom Kime
Tom was absolutely amazing. The food was sensational given the limitations he had with everyones dietary requirements but he met the challenge. Everyone was so super impressed with Tom!
Vanessa (NSW)

Tom Kime
Tom prepared us a fantastic 5 course tasting menu for a birthday celebration - the food was amazing and Tom added great comments on the matching wines and food stories in general. The waitress handled everything so smoothly making the night seamless and fun for us hosts, as well as the guests! We wouldn't hesitate to book Tom again for another event.
Felicity Page (NSW)

Tom Kime
I LOVE At Your Table. We have booked several times now and the food, chef and waiters are always fantastic. For this experience we had Tom Kime who provided not only fabulous food, but also a selection of expertly matched wines. An Absolute 10 out of 10 experience! Thank you!
Sven Almenning (NSW)